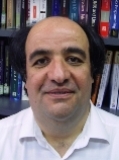 Dr Iraklis Paraskakis
Senior Research Officer
Affiliation: SEERC
Phone: 0030 2310 253478
Dr Iraklis Paraskakis is a Senior Research Officer at the South East European Research Centre (SEERC), and coordinator of the Information & Knowledge Management research cluster. He is also Senior Lecturer in the Department of Computer Science at CITY College, Greece, and Associate Lecturer in the Department of Informatics at the Hellenic Open University.
He holds a PhD in Information Technology and Education from the Open University (UK), and an MSc in Analysis, Design and Management of Information Systems from London School of Economics.
His research interests are in the areas of educational informatics, information systems, and knowledge management. He has a number of publications in related conferences and journals, and has participated in several successfully completed and on-going EU projects in these areas. He has served as organising chair and program committee member in numerous international and regional conferences, and as a referee for several journals in the area of educational informatics. He is a member of BCS, IEEE, EARLI, AIED and AACE.
Participation in
Research Projects
PhD Supervision
Publications
Click here to view publications by Dr Iraklis Paraskakis